Westbridge Park plan is Stone food festival 'death knell'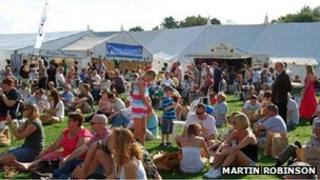 Plans to build a supermarket on a Staffordshire park, could sound the "death knell" for an annual food and drink festival, organisers have said.
Westbridge Park in Stone is the venue for a food festival every October.
Stafford Borough Council plans to sell part of the park to "a food operator" and redevelop the leisure centre.
It said the majority of green space would be kept to hold festival events but organisers claim it will not be big enough.
Festival chairman Richard Stevens said: "It looks as if we're only going to have two thirds of the space available and we simply could not do a festival on a pitch that small, it just puts an end to the festival full stop.
"The thought of just downsizing it would be the death knell and kill the enthusiasm of all our volunteers."
Proposals for Westbridge Park include redeveloping the existing leisure centre to include a six lane, 25m swimming pool, a gym and children's play areas.
Part of the park would be sold to a food operator to build a medium sized store which would help fund the scheme, the authority said.
The council said the scout hut and canoe club boathouse will stay at the park site.
A consultation on the plans began on Thursday.
Chief Executive Ian Thompson, said: "We have purposely designed the new park to ensure all community events can still go ahead.
"We will be listening to all views, including groups and organisations who use the park."