Staffordshire farmers meet over HS2 route plans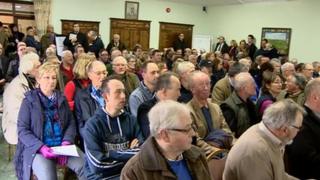 About 200 farmers have met to discuss the proposed route of the second phase of the HS2 high-speed rail line.
Under proposals unveiled last month, the £32bn scheme would go through rural parts of Staffordshire to link up with the existing Crewe station.
Some farmers expressed concerns over "uncertainty" of the planned route and compensation for lost land.
The meeting was organised by the NFU which said it will support rural businesses affected by the plans.
The event was held at the County Showground near Stafford, which is itself on proposed route from Birmingham to Manchester and Leeds.
Claire Preston, whose family have farmed near Stafford for 70 years, is among those concerned about the plans.
She said the proposals would "cut our farm in half" and her family would lose their home, the bed and breakfast business they run, as well as barns which provide rent as well as access to fields.
However, supporters of the scheme said it would have economic benefits for the region.
Gavin Williamson, Conservative MP for south Staffordshire, said: "This railway will make the West Midlands the hub of British railways - not London, it will be the West Midlands.
"And Staffordshire will have major benefits from that as well."
According to the government, HS2 will help deliver increased capacity on the railway network as well as create jobs and growth in the economy.
It said a full consultation would take place and a generous compensation package offered for homeowners directly affected.
The second phase of HS2 is not earmarked for completion until 2032. The finalised route is expected to decided by the end of next year.