'Dangerous' Spode pottery works facade removed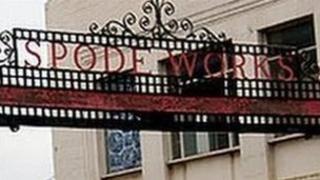 Part of a street next to Stoke-on-Trent's former Spode pottery works has been shut so some brickwork which is leaning "dangerously" can be removed.
The city council, which has owned the site since July 2010, said the top part of the factory's facade needed temporarily taking down for safety.
Structural experts inspected the brickwork, at the junction of Liverpool and Elenora Street, on Monday.
They said recent poor weather had caused it to deteriorate.
The council said the facade, which includes a date plaque, was "seriously out of line and no longer level".
The Spode works is in a conservation area and the council said each brick had to be carefully removed, numbered and stored so they could be reinstated at a later date.
The work on the corner of the building, near to a pedestrian crossing, is expected to last more than a week.
Separate work on the site on a chimney, which the council said was "teetering" is also starting later. Part of Victoria Street will be cordoned off to allow that work to be carried out, near to the junction with Langley Street.