Burslem Park visits increase 20% after £2.4m revamp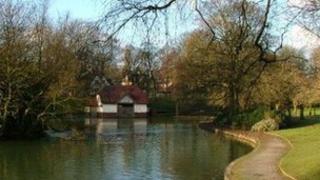 Stoke-on-Trent's Burslem Park has seen a sharp increase in visitors since a £2.4m restoration.
The park received 239,000 visits in 2012, which is an increase of 20% from previous years.
Stoke-on-Trent City Council, which recorded the figures, hopes a cafe at the park's pavilion will open shortly to capitalise on its success.
It said the cafe would bring an overlooked asset back into use and provide revenue for the council.
'Better than expected'
Mike Watson, from Burslem Park Partnership, said: "The count on the gate has been better than we expected actually.
"Hopefully with the experience we've had we can pass all that information and help on to future park groups like ourselves."
Tom Pine, park liaison officer, said there had also been an increase in the number of organisations wanting to run events in the park.
Dave Noden, a frequent visitor to the park, said: "It was a shambles before, people didn't feel safe. Since the lighting's gone in and everything's been planted and opened up, it's a total delight to come here now."
The improvement work, which took place between May 2011 and June 2012, was funded by the Heritage Lottery Fund, Big Lottery Fund and the European Regional Development Fund.
Stoke-on-Trent City Council said it hoped the park cafe will open in the next few months.