Anger as vandals destroy Audley allotments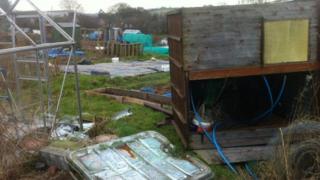 Vandals have caused thousands of pounds worth of damage to allotments in a Stoke-on-Trent village after destroying plots over eight nights.
Greenhouses were smashed, sheds were torn down and trees were uprooted at the site off Nantwich Road in Audley.
Allotment secretary Bill Cooper said: "Three tenants in the last 24 hours said they're giving plots up, they're angry and upset."
Staffordshire Police said it was investigating the attacks.
Mr Cooper said he had reported nine incidences of theft and vandalism to the police since 17 February.
"One elderly gentleman, who has been working on his plot for two years, had his shed pushed over and smashed, all the tools were taken out and burned, there was absolutely nothing left - it's mindless," he said.
Photos online
Burt Proctor, chairman of Audley and District Parish Council, said criminal damage and anti-social behaviour had been going on at the site for years, but there was little evidence of "anyone caught".
He said: "We've got two PCSOs [Police Community Support Officers], who work in the village, but of course they don't work nights. We're not being given the right protection as a village."
Mr Proctor said some of those responsible had even posted photos online of themselves damaging property at the allotments.
Insp Mark Barlow said he was not aware of the photos, but several suspects had been identified who police would be speaking to.
"We've recently had an initiative where we've focused several officers on anti-social behaviour hotspots, of which Audley has been identified as one," he said.
Staffordshire Police said officers would be carrying out patrols around the site.