Pottery firms call for punishments for 'bogus branding'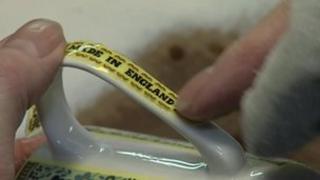 MPs and pottery firms in Staffordshire want stronger penalties for companies who brand ceramics Made in England when they are manufactured overseas.
Stoke-on-Trent North Labour MP Tristram Hunt said they want trading standards officers to take the problem of "bogus branding" more seriously.
"If people buy British they should know it is definitely made here," he said.
Mr Hunt said firms tried to get around the law by having an office in England while manufacturing overseas.
He said some firms also had their ceramic ware made abroad but it was decorated in England.
'Misleading people'
"There are some companies who will produce a big mug with a Union Jack on and stamp England on the bottom of it and it'll be made in Romania or China," he said.
"We need to use existing laws better than we do. We want trading standards to clamp down on this, to stop people passing off second-rate ware made abroad as being made in England."
Mr Hunt secured a commons debate on the issue which focused on whether tougher punishments could be imposed on firms, with a view to protecting UK pottery manufacturers.
The calls are being backed by a number of ceramics firms, the pottery workers trade union, Unity.
James Roper, from Churchill China, said: "It's important companies don't mislead people because at the end of the day a Made in England mark represents a certain quality of product, materials and design.
"If china is manufactured in another country then firms should have no right to stamp it with Made in England branding."
Dr Laura Cohen, chief executive of the British Ceramic Confederation, said: "Our Tableware and Giftware Association supports all efforts to ensure the proper and legal use of origin marking and to prevent misleading or illegal origin marking claims."
West Midlands Conservative MEP, Malcolm Harbour, said that the problem could be eased if products had "compulsory branding of origin."
"The European Parliament has consistently voted in favour of it, the problem is all the governments, there hasn't been a consensus among them to make some progress on this," he said.