Stafford Hospital: Residents attend meeting to discuss future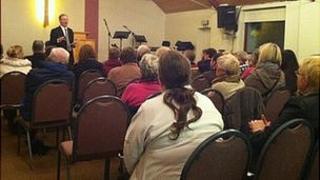 More than 100 people attended a meeting to discuss the future of Stafford Hospital and its services.
A report for regulator Monitor, published on Tuesday, recommended some services should be downgraded and patients treated at nearby hospitals.
They included maternity care as well as some accident and emergency (A&E) and paediatric treatment.
More than 1,000 people have signed a petition calling for a referendum over the hospital's future.
Stafford Conservative MP Jeremy Lefroy, who chaired the meeting at the Elim Christian Centre in Stafford, said he planned to meet the Prime Minister to discuss people's concerns.
He said: "The meeting was about trying to galvanise our community to fight for the services and lots of people here were asking penetrating questions.
"This will have a serious impact on access to services for people, it's not just Stafford and Cannock that will be affected, it's a much wider area."
'Vital services'
About 60 people protested outside Stafford Hospital against the plans to cut maternity services on Wednesday.
Cheryl Porter, of the Support Stafford Hospital group, said many more people were backing her campaign following the meeting.
She said: "We have to get people onto the streets to protest, the passion is amazing and we've got to show that our vital services have to be saved."
The Contingency Planning Team (CPT) report to Monitor said staffing levels at Stafford and Cannock Chase hospitals were not sufficient to meet required standards in the long term, given the current range of services and number of patients.
It said some services could be provided at the University Hospital of North Staffordshire, The Royal Wolverhampton Hospital Trust and Walsall Healthcare NHS Trust instead.
Last week Monitor announced the administration process for the Mid Staffordshire NHS Trust, which controls Stafford Hospital, was to begin.
A consultation on the report recommendations would start once administrators were appointed, Monitor said.