Stafford Hospital nurse denies changing forms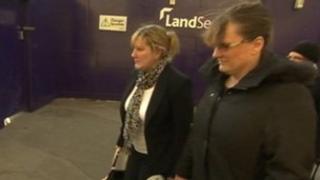 A former Accident and Emergency (A&E) nurse at Stafford Hospital has denied altering waiting time records to help meet targets.
Sharon Turner faces a series of allegations of misconduct alongside fellow A&E sister Tracy White.
The Nursing and Midwifery Council (NMC) in London has previously heard the pair had altered records and encouraged others to do the same.
However, Ms Turner told the hearing records were changed by department managers.
She said nurses were "too busy doing their jobs" to change times on discharge documents.
'No excessive changes'
Earlier in the week, the disciplinary hearing had been told there was a "culture of bullying" among senior management.
The NMC heard that failure to treat, discharge or admit patients within the government's four-hour target led to nurses at the hospital being shouted at and "made a spectacle" of.
Ms Turner told the hearing: "Because you get the breaches (reports) through the following day I think we acknowledge that minutes were taken off - a couple of minutes here and there by managers.
"The following day the lower-level managers had to take breach reports up to senior management and explain if the limit had been broken.
"I think it was probably something subsequently done by management - I don't think there were excessive times taken off... just a couple of minutes, the time to walk down a corridor."
She said the only occasions she had changed times were when night staff had made obvious errors.
Racism allegations
"They used to get confused by the 24 hour clock and you would get breaches by thousands of minutes," she said.
Ms Turner, who now works at Royal Shrewsbury Hospital, also denied claims by nurse Helene Donnelly that she had advised her to lie about breach times.
The sister also denied she made racist comments about staff, including likening one Asian doctor to a suicide bomber.
She faces six charges, including falsifying records, failings over patient care and making inappropriate comments about patients and staff.
Tracy White, who is due to give evidence to the tribunal on Friday, faces five charges of falsifying records and failings over patient care.
The pair deny all allegations, which date back to 2007.
The hearing continues.