Stafford Hospital nurse accused over twins morphine error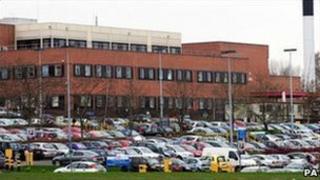 Premature twins died following a morphine overdose at Stafford Hospital, a disciplinary hearing was told.
The babies, named as twin one and twin two, received 600 and 850 micrograms of morphine respectively, instead of 50 to 100 micrograms, the Nursing and Midwifery Council (NMC) heard.
Senior staff nurse Joanne Thompson is accused of allowing a more junior nurse to administer the drug.
An inquest found the morphine overdose had "played a part in their deaths".
Last May, Staffordshire coroner Andrew Haigh recorded a narrative verdict into the deaths of Alfie and Harry McQuillin, who were born 13 weeks early on 30 October 2010.
He said the cause of their deaths was "complications in extreme prematurity" but he could not say they died from natural causes.
Mrs Thompson is accused of allowing more junior nurse Lisa Lucas, to prepare and/or to administer morphine to the twins with the help of a junior doctor.
This is against hospital protocol which states this should be carried out by two registered nurses.
Mrs Thompson denies a series of charges, including failing to take the clinical lead of nursing care in relation to the administration of the morphine.
'Appears unfair'
Hayley Amos, a senior neonatal staff nurse at Stafford at the time, told the hearing she reported for duty on the 7am shift, after the drug was administered.
Speaking of the two nurses' reaction after the mistake, she said: "Joanne went very quiet at this point and was visibly shocked.
"Lisa was hysterical and kept saying, 'Oh my God, what if I have killed these babies?' and she was crying and shaking.
"I did my best to calm and reassure Lisa by saying, 'look at them Lisa, they are fine, now calm down'. I don't recall Joanne saying anything."
Ms Amos also told the hearing it "appears unfair" that only Ms Lucas appeared to have been held accountable by Mid Staffordshire NHS Foundation Trust.
"As the nurse in charge Joanne should have ensured that the hospital policy was adhered to and clear instructions and supervision was given to the more junior nurse," she said.
The babies, born at Stafford at 27 weeks, were transferred to North Staffordshire Royal Infirmary, where they died on 1 November, 2010.
The hearing continues on Tuesday.