Stoke-on-Trent bus station opening date announced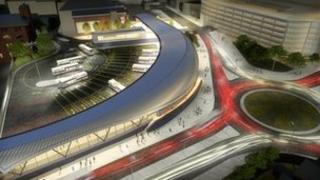 A new £15m bus station in Stoke-on-Trent will open on March 26, the city council has announced.
The building in John Street is part of the first phase of a £350m regeneration of the area, which will include a new shopping and leisure complex.
Building work, which involved moving 3,500 cubic metres of earth, began in January last year.
Council leader Mohammed Pervez said the opening marks "the start of a journey to transform the city centre".
Highways officers will be working overnight on March 25 to prepare the roads in the city centre for the new traffic management system, which involves changes to one way streets, bus stop locations and traffic flow, a spokesman said.