Burton-upon-Trent farm loses dairy herd to bovine TB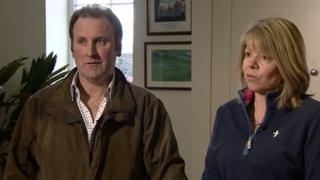 A couple who farm in Staffordshire are "completely devastated" as a herd of 150 dairy cows have to be slaughtered following the detection of bovine TB.
Gillian and Louis Bothwell, who farm in Newchurch, Burton-upon-Trent, say they have to "start again" after routine tests detected the disease.
Mrs Bothwell said about 80% of the cows being killed were pregnant with calves, which added to their dismay.
Defra said bovine TB led to 28,284 cows being slaughtered in England last year.
The figures represent a 7% increase in the number of cattle slaughtered as a result of the spread of the disease in 2011, Defra announced on Wednesday.
The couple said the entire herd had to be slaughtered after most tested positive because they shared facilities, including drinking water.
Mrs Bothwell said watching the cows leave in "lorry load after lorry load" made them realise what other farmers had gone through during the foot-and-mouth crisis.
"I just can't put into words how it feels to see the cows going like that and know they were going to be slaughtered," she said.
"And to know that they were heavy in calf - nearly all in calf - and as well as losing the cows, the calves were going to die as well.
"I just can't tell you how devastating it is."
She was shocked despite years of experience in farming.
"Unfortunately it's part of farming, you live with death - but nothing like this," she added.
Her husband Louis said "he felt sick" when the cows reacted positively to the tests.
"I know when your cows are infected there's only a one-way ticket and they are going to be slaughtered," he said.
'No badger disturbance'
The Bothwells moved to the site in 2007 and began building up their dairy stock and aimed to expand further. They invested about £500,000 on facilities, including a new cattle shed.
They said the outbreak followed six clear tests and believed the disease was spread by badgers.
In addition, they believe the badgers were disturbed by the nearby development of the Football Association's (FA) St George's Park complex, which opened last year.
However, the FA has denied this.
"We are aware of the location where badgers may be populated within St George's Park but by no means was there any disturbance of their habitat during the building process," a spokesperson said.
"Our design and construction team of architects worked hard during that period to ensure we conformed with relevant landscape legislation and as a responsible landowner, the FA complies with the Protection of Badger Act 1992.
Meanwhile, mainly because of their investment, Mr and Mrs Bothwell have pledged to "carry on" with their dairy farm.
Although they will receive compensation from Defra, the farmers have lost money through the loss of milk sales and will have to re-stock.
Defra said its figures highlighted the "growing impact" of bovine TB on the dairy and beef industry and the need for urgent action.