Paramedic 'will not face charges' for Julie Bailey Facebook comments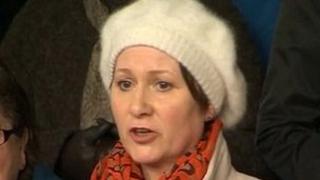 A paramedic will not face criminal charges for allegedly writing abusive comments online about a Stafford hospital campaigner, police have said.
Murph Guest, from West Midlands Ambulance Service, apparently wrote on Facebook that he hoped Julie Bailey suffered "a life-threatening illness".
Staffordshire Police said it had conducted an investigation but the posts did not warrant further action.
Mr Guest remains suspended by West Midlands Ambulance Service.
The service said it was still carrying out an internal investigation into the online comments.
A spokesperson for Staffordshire Police said: "After reviewing all of the information available to us, and taking into consideration national guidance, it was decided that the comments do not meet the threshold for criminal charges.
"We have been liaising with Julie Bailey throughout the investigation and updated her about its outcome."