Stoke-on-Trent heritage commission looks at historic building use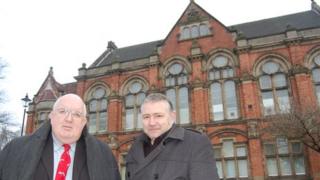 Cranes and excavators have been ever present in Stoke-on-Trent city centre for the past two years, as the area is regenerated.
The new £15m bus station opens next week, while work on the 1.2 million sq ft Central Business District is due to be completed in 2015.
But in its desire to revitalise the city, the council has decided to look at what part its historical buildings can play and whether some of them have a future at all.
"The heritage of a community is its most defining feature, we need to protect it else we run the risk of everywhere eventually looking the same," said Peter Bounds.
He has been appointed by the authority to chair a heritage commission, which will investigate the use of the buildings which include town halls, disused pottery factories and bottle kilns.
The commission is holding two public debates and will report back to the council later this year.
Mr Bounds said: "There are some heritage assets that are of great quality and importance that it's almost unimaginable that there could be some economic argument for getting rid of them, but in other cases it may be felt that losing them is a price worth paying."
'City identity'
In February, the city council approved plans to demolish a Victorian vicarage to allow ceramics firm Steelite International to carry out a £12m expansion of its factory.
"When the argument for regeneration is made, heritage normally falls victim and we need to stop this mentality," said Labour MP for Stoke-on-Trent Central, Tristram Hunt.
He has backed the idea for the commission but said the council needed to be more flexible when it came to dealing with heritage buildings.
He said: "It needs to be accommodating with planning permissions and what people can do with the buildings so they have a future use.
"I don't think history gets in the way of growth, you can make heritage an asset and build an identity for a city."
Historian Fred Hughes will be one of those giving evidence to the commission report.
He said the council needs to encourage more private investment in the same way it has marketed derelict sites around the city.
"The council has to juggle its finances, it has certain priorities on spending and there is a fear that some of these buildings will simply fall apart without investment," he said.
"The private sector hasn't been neglectful of the city but it has probably had better proposals to invest elsewhere, I think that's one of the things Stoke-on-Trent needs to raise its game with."
'Jobs and growth'
Mr Hughes said local communities also "had a responsibility to make use of the heritage buildings in their area."
The Great Fenton Community Association has decided to do just that, by looking at the possibility of taking over the city's former magistrates court.
It has been up for sale since December 2012 when the Ministry of Justice moved its services to the North Staffordshire Justice Centre in Newcastle-Under-Lyme.
The building began life as Fenton town hall in 1886.
Glen Parkes, from the association, said it was in the early stages of looking at finances and planning permissions.
He said: "Inside the building there's a real range of different sized rooms that small businesses could be attracted to and at the front of the building there is room for bars or cafes, it's about getting the community to use it.
"There is also the ballroom upstairs which would be good to get back into use as an exhibition hall or a concert venue."
"The city needs jobs and growth and hopefully a revamped Fenton town hall could bring that," he added.