Stoke-on-Trent City Council's £45m move approved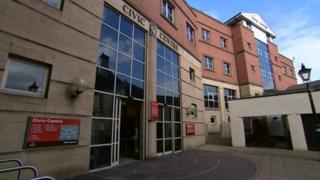 A £45m headquarters for Stoke-on-Trent City Council labelled a "white elephant" by opponents has been granted planning permission.
The Labour-run council wants to move from the civic centre in Stoke to the new Central Business District (CBD) which is under construction in Hanley.
Last month protesters, some wearing elephant masks, marched against the proposal they say is a waste of money.
The council said the move would save money long-term and aid regeneration.
'Suffering enough'
The planning approval means the authority will move from the civic centre, which opened in 1992, to its former home of Hanley when the CBD is completed.
Building on the CBD is under way and the decision means work on the authority's building will also begin.
Up to 1,000 protesters marched against the plans last month, according to police figures.
March organiser Alan Barrett said people were not properly consulted on the proposals which were not in the authority's manifesto.
"The city's suffering enough and we know that investment is required but we need business investment, not borrowing more public money that we have to pay back and our children and grandchildren have to pay back," he said.
The council said the building will be of critical importance and greatly enhance the area.
Kevin Bell, strategic manager for city and town centre regeneration, said it was challenging to make developments viable in the current climate but the council was "making activity happen".
The council also said it hoped the move to Hanley would save it £2m a year and that all the correct planning rules were followed.
Stoke-on-Trent councillors approved plans to cut £21m from next year's budget at a meeting in February.