Snow blowers free trapped villagers in Ilam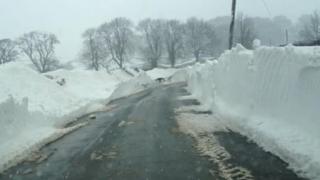 Residents in a Staffordshire village who have been cut off by snow for the last five days have finally been able to leave.
People living in Ilam were left stranded after snowdrifts, some reaching 12ft (3m) high, blocked off roads into the area.
Snow blowers were brought in after snow ploughs failed to clear the roads.
Resident Graham Knottage said he felt a huge sense of joy when the roads were once again accessible.
"Wall-to-wall snow for four days with absolutely no passage through it at all," he said.
"To be isolated for so long you can see vehicles on the other side of the valley on one route that was open and you can't get out, you get really, really frustrated... When the road is open that sense of relief... it's joy, I suppose."