Staffordshire County Council to 'fix 300 potholes a week'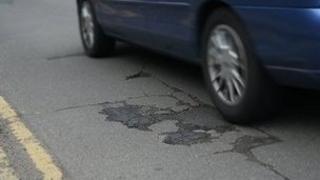 Staffordshire County Council says it plans to repair more than 300 potholes every week to clear backlog of road repairs.
The authority said it would spend an extra £500,000 on the work.
Highways teams have repaired 3,500 potholes since the start of the year, which is 1000 more than the same period in 2012, the council said.
Ian Turner from the council said recent flooding, snow and icy conditions had "taken their toll on the roads."
He said 20 crews would be carrying out repairs.
"Hopefully the Easter school holidays should mean roads will be quieter for the next fortnight and will allow us to tackle even more with the minimum of disruption," Mr Turner said.