Stafford Hospital: Police fail to prosecute over dummy taped to baby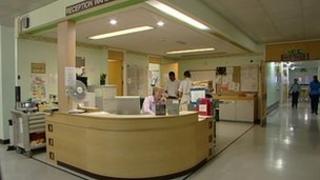 No one is to be prosecuted after a dummy was taped to a baby's mouth at Stafford Hospital, police have said.
A four-month-old boy was found with a dummy attached to his face in January, but was left unharmed.
Staffordshire Police said there was insufficient evidence to prosecute any individual over the incident at the scandal-hit hospital.
The hospital trust said a member of staff remained suspended and it would now carry out its own investigation.
Police said officers had liaised closely with the trust and the boy's family throughout the investigation.
In January, the Mid Staffordshire NHS Foundation Trust said it had been an isolated incident and apologised to the baby's family.
The hospital and its staff were heavily criticised in a public inquiry into failings of care at Stafford from 2005 to 2009.
Chair of the inquiry Robert Francis QC published his findings in February and said patients had been "routinely neglected" during that period.