Stafford Hospital 'lack of accountability' over diabetic death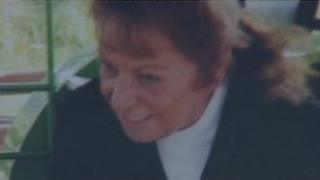 The partner of a diabetic woman who died at Stafford Hospital has said he hopes an investigation will mean individuals are brought to account.
Gillian Astbury, 66, from Hednesford in Staffordshire, died in April 2007 after entering a diabetic coma.
An inquest heard nurses failed to administer a daily insulin injection the day before she died.
Ron Street, 79, said news of the Health and Safety Executive investigation came exactly six years after her death.
"I'm glad at least somebody has seen sense and they are going to carry out an investigation," he said.
"But I find it's ridiculous that it's taken six years for it to come to this point."
Police investigated after Mrs Astbury's death, but the Crown Prosecution Service ruled there was insufficient evidence to bring a prosecution.
The HSE said it had been advised to wait until a public inquiry into failings at Stafford Hospital 2005-2009 was carried out, before completing its investigation.
In February the inquiry's chairman Robert Francis published his report.
While being strongly critical of the trust, staff and senior management, he said he hoped it would not lead to individuals being made "scapegoats".
'Called to account'
This is a point on which Mr Street strongly disagreed.
"I have a lot of respect for Mr Francis. But nobody as far as I'm aware has been called to account for their complacency in allowing what happened at Stafford Hospital.
"I'm not a vindictive man. I don't necessarily want to see people behind bars, but what I do want to see is those who are found to be guilty or complicit in causing this situation to be called to account."
He said a fine for the trust as a whole would only further damage the financially stretched organisation.
"Unless people are seen to be held to account for such long-running negligence, no message is going to be sent out across the NHS to other trusts who may be equally responsible," he added.
The £13m Francis inquiry heard hundreds of people may have died needlessly at Stafford 2005-2009 due to negligence.
An inquest into Mrs Astbury's death, held in 2010, recorded a narrative verdict and said a failure to administer insulin amounted to a gross failure to provide basic care.
Mid Staffordshire NHS Foundation Trust has apologised again to her family.