Cannock Chase deer count suggests growing population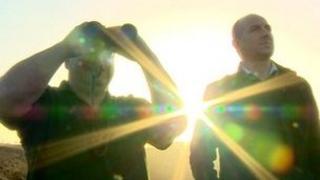 The deer population on Cannock Chase is increasing, according to early results from the annual count by rangers.
The Chase, in Staffordshire, is thought to support more than 850 deer.
Without monitoring the number of deer that may need to be culled, the welfare of the animals could suffer and the number of car accidents could increase, rangers say.
There have been about 160 reported accidents involving deer on the Chase in the past 12 months.
The Chase covers an area of 26 sq miles (67 sq km) and is thought to be the smallest area to be designated as an Area of Outstanding Natural Beauty in mainland Britain.
Steve Archer, head ranger, said: "As people are aware, numbers have been increasing steadily over the last few years.
"It's now becoming problematic regards increasing road traffic accidents involving deer, deer straying onto farmers land, eating and destroying crops.
"We have a lot of incidents of deer poaching as well."
The full results of the count will be released later this week, but early indications suggest an increase.
One team on Monday recorded 189 deer sightings, which is more than any individual team report last year.
This is despite concerns over deer poaching, which have led to late night patrols involving police, park rangers and RSPCA officers.
Human contact
Mr Archer said the deer have become used to people and cars as visitor numbers have increased.
"With cyclists, horse riders, people walking their dogs, the numbers have shot through the roof really.
"So there's nowhere for deer to lie down during the day and find a bit of quiet time, away from the public, away from dogs, away from cyclists and horse riders and things like that."
The annual census is organised by Staffordshire County Council and the Forestry Commission.