Stafford Hospital: Unison 'reassured' by administrators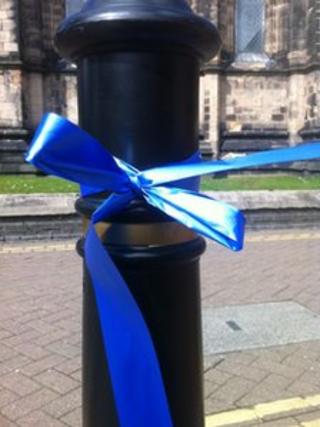 A trade union representing staff at Stafford Hospital has said it has been "reassured about the future of services" by administrators.
The trust which runs the hospital was put into administration by the health regulator Monitor on Monday.
A Monitor report published in February recommended the closure of acute services including the A&E department.
The Unison union said administrators told them at a meeting they "were not bound by the recommendations."
Administrators Dr Hugo Mascie-Taylor and Alan Bloom of Ernst and Young took over the running of Mid Staffordshire NHS trust on Tuesday.
Monitor has given them 145 days to work with commissioners and other local healthcare organisations to produce a "sustainable plan" for the future of services at Stafford and Cannock Chase hospitals.
'Saving services'
Ray Salmon from Unison said: "[The administrators] confirmed to us that their role is to look at all operations and that the original report wasn't definitive, although that's going to form the basis of their work.
"It actually gives us a reassurance that we still can make representations and if the people of Stafford and the politicians put up a good enough argument there will be some scope for saving those services."
Mr Salmon said union members would be joining a march organised by the Support Stafford Hospital group through the town on Saturday.
He said: "Things like the march are even more important now because people have got to make their views known and engage in the consultations that follow."
The Support Stafford Hospital group tied hundreds of blue ribbons to lampposts, bollards and trees in the town on Tuesday to highlight their campaign.
The group said more than 23,000 people had signed a petition against recommendations to downgrade services at the hospital.
Sue Hawkins from the group said: "We need to show the administrators the strength of feeling in Stafford.
"Something does have to change at the hospital but we don't think it's the proposals that have been put forward so far.
"I hope the administrators look to the future for people in Stafford and realise they can't make a decision about us, without us."