Shakespeare's birthday marked in Stratford-upon-Avon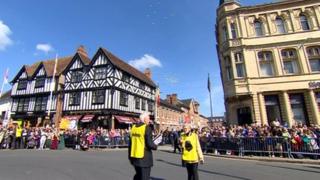 Thousands of people have lined the streets of Stratford-upon-Avon to mark the start of celebrations for what is said to be the 449th anniversary of William Shakespeare's birth.
The celebrations began with a parade through the town centre, led by the Band of the Royal Engineers.
Actors and musicians then kept the crowds entertained throughout the day.
The town has been marking Shakespeare's birthday since 1824. The events are due to continue throughout Sunday.