Misprinted Burton fiver sells for £720 at auction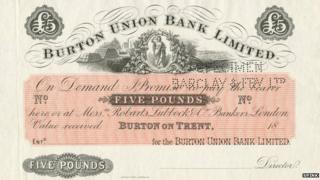 A 200-year-old £5 note from Staffordshire with a "unique" printing error has sold at auction for £720.
The banknote was issued by the Burton Union Bank Limited in the 1800s.
The words "ten pounds" are printed repeatedly on the note in tiny red script, even though all the other graphics show its £5 value.
Auctioneer Tom Badley said: "Its condition is superb for its age and the error is very, very small but it makes it unique. I haven't seen that before."
He said there were keen collectors of bank notes from the time when "industrialists of the day got together and started issuing their own money".
He added the Burton note had been bought by "very strong hands" and would be unlikely to be seen in public again for several years.
The banknote - one of a large collection held by British multimillionaire David Kirch - exceeded its estimated sale price of £400 to £600 at the Spink and Son auction house in London.