Stoke-on-Trent mine collapse drains lake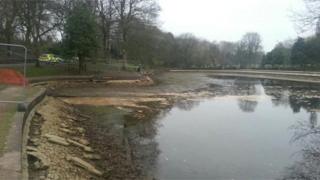 A disused mine shaft has collapsed under a lake in a Stoke-on-Trent park.
More than 4ft (1.2m) of water had drained out of the lake at Tunstall Park on Wednesday night, the Coal Authority said.
The area has been cordoned off and engineers from the authority and Stoke-on-Trent city council have been carrying out initial repair works.
The authority said it was using clay to plug the 13ft (4m) wide hole, caused by the collapse of a mine shaft.
James Walker from the Coal Authority said that they still didn't know the exact cause.
"We're working to stabilise the collapse itself to make it safe, so we can carry out some further investigations and hopefully then the lake can be replenished," he said.
Stoke-on-Trent city council said it expected two more loads of clay to be delivered on Friday.
A spokesman said: "Once it has settled, it will be possible to do some drilling to try and find what caused the collapse in the first place.
"The fish have been taken out and placed in a separate pool in the park and the water level has not dropped since Thursday morning."