Newts moved ahead of Norton Bridge West Coast Mainline work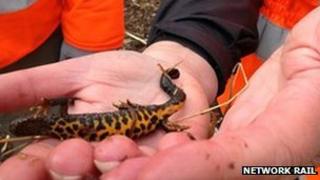 Experts are having to move newts so work can start to upgrade part of the West Coast Mainline through Staffordshire.
The great-crested newts have been found living at the site at Norton Bridge where work is due to start in July for a new railway flyover.
A special reserve is being built for the newts, which by law can only be handled by experts, at Shallowford.
In the meantime, the amphibians are being kept in a temporary pool nearby.
Network Rail chiefs say the new flyover will help remove a "major bottleneck" on the route through Stafford.
Work is expected to continue on it until 2017.