Staffordshire cancer patient denied more free IVF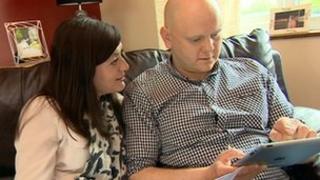 A patient left infertile due to cancer treatment has been denied further free fertility treatment by the NHS.
Corrie Walker, 32, from Staffordshire, had experimental treatment for a form of Leukaemia 11 years ago and claims he was the only patient to survive.
Mr Walker had his sperm collected after being warned in advance that the treatment could leave him infertile.
After an unsuccessful free complete cycle of IVF with his wife, he has been told more treatment will not be funded.
The National Institute for Health and Clinical Excellence (NICE) recommends that the NHS should fund three cycles of IVF treatment for everyone, but South East Staffordshire and Seisdon Peninsula Clinical Commissioning Group (CCG) says it can only afford to fund one.
More can be funded when the CCG thinks the circumstances are exceptional.
But it has written to Mr Walker to say there are no grounds to consider his case exceptional.
'Finite budget'
Mr Walker said: "You realise that you have only got one life and it is not something I am prepared to give up on easily.
"It is not a fair situation in my opinion. I will not be giving up."
Mr and Mrs Walker have had two attempts at IVF but because the first time no eggs were fertilised they were entitled to a second chance under the initial funding.
The second time was this March when one egg was fertilised, but the foetus did not develop.
The pair have written twice requesting extra funding and Burton Hospitals NHS Foundation Trust has also made a request on their behalf.
Dr John James, chair of the CCG, said: "We recognise Mr and Mrs Walker have been through a difficult time and of course we empathise with them personally.
"The CCG has a finite budget and we have to make difficult prioritisation decisions, based on ensuring equity for all our residents.
"We recognise that NICE guidance does suggest three cycles are best practice, however the CCG is working to the previous PCT policy which supports only one full cycle.
"As a newly formed organisation the CCG will be reviewing all legacy PCT policies and we will be doing this in conjunction with our newly established Patient Council, as we are committed to making decisions based on the views of all our public and patients."
Despite repeated requests, the CCG was unable to clarify why Mr Walker's situation was not considered exceptional.