Johnson Tiles to cut 75 jobs in 'restructuring plan'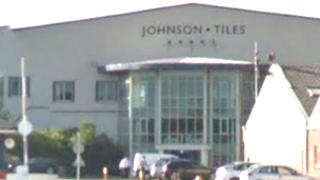 A tile manufacturer is shedding 75 jobs as part of "restructuring" plans.
Johnson Tiles, which employs about 400 people at its factory in Tunstall, Stoke-on-Trent, said the rising cost of energy had affected business.
The Unity union, which represents ceramics workers, said it was in talks with the firm and it hoped to reduce the number of redundancies.
Harry Hockaday, from the union, said: "It's a worrying time because we don't yet know exactly who is affected."
He added: "We're trying to do everything we can to mitigate the number of people that unfortunately have to lose their jobs."
Johnson Tiles said the 75 job losses would cover all staff including office and factory workers.
A spokesperson for the firm said: "In the light of lower than expected levels of demand in our markets, and a very substantial increase in energy and other input costs, the Johnson Tiles Board has reluctantly decided there is a need to restructure the business.
"We are now in a 30-day consultation period and discussions are taking place with both the unions and the individuals concerned."