Stoke-on-Trent city centre road shut over collapse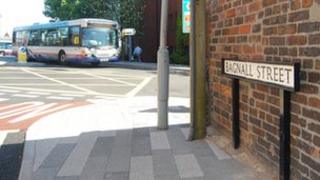 A city centre street is being closed while a collapse beneath the road surface is investigated.
Bagnall Street in Stoke-on-Trent, one of the main roads in and out of the city's new £15m bus station, will be shut on Wednesday.
The road closure was planned for one day only, the city council said.
It added this would affect some bus services which drop passengers off at city centre stops and people concerned should get off at the bus station.
In a statement, the council said: "Passengers will still be able to board their bus back home at their normal city centre stop as outbound routes are not affected unless you are boarding at stops S4 and S6 on Stafford Street, in which case you should use the bus station."
The bus station, built on the site of the former John Street car park, opened on 26 March.
One-way restrictions would be revoked during the Bagnall Street work to allow access to businesses, the council said.