Jean Bailey ordered to tear up Harriseahead garden by council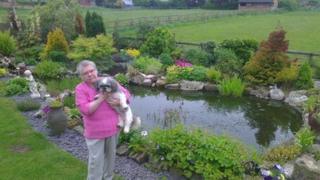 A woman who spent £9,000 landscaping her garden has been ordered to turn it back into a "boggy field" because it breaks planning rules.
Jean Bailey, 76, had applied for retrospective planning permission for the plot in Harriseahead, which had been developed on greenbelt land.
Newcastle-Under-Lyme Borough Council in Staffordshire rejected her application and ordered her to remove it.
Mrs Bailey said she would "rather go to jail" than lose her garden.
The plot on Biddulph Road, has a pond with about 60 fish, flower beds, and a memorial bench to Mrs Bailey's late husband, John, who died in 1994.
It was previously "just a boggy farmers field", she said.
"I'm getting on now and all I need is my bit of garden, it gives me joy and helps me remember my husband," she added.
"I don't want to go back to a bog garden so I will refuse to fill the pond in, I would go to jail first, honestly."
'Set a precedent'
Mrs Bailey said she did not know that the land could not be developed when she started work.
She said she only became aware that she had broken planning laws when her neighbours applied to the council to make alterations to their garden.
In March, she put in a joint application for retrospective planning permission with her neighbour because the piece of land was jointly owned.
The council said it could not allow the plan because it would "set a precedent for other people to encroach onto greenbelt land".
The authority said that Mrs Bailey must return the land to its previous state.
Michael Clarke from the council said: "We've got national and local policies that go against any sort of development on greenbelt, so we made the decision, but it's with heavy heart because we realise the personal circumstances."
He said the authority would review the decision if Mrs Bailey resubmitted her application as a single property within 21 days.