Longbridge Hayes fireworks blaze 'was accidental'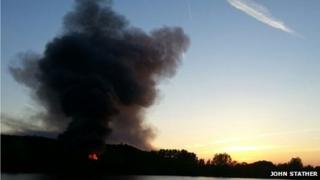 A fire involving a building storing fireworks started accidentally, the fire service has said.
The blaze at Chemical Lane, Longbridge Hayes, started in some pallets on Friday evening and spread to two buildings, which were destroyed.
Staffordshire Fire and Rescue Service described the fire as "an inferno".
At the peak of the blaze the fire service had 50 firefighters at the scene.