Stafford Hospital nurses said dead woman was sleeping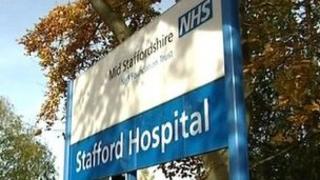 Two nurses who failed to give basic life support to an 81-year-old woman at Stafford Hospital, recording that she was asleep when she was actually dead, have been found guilty of misconduct.
Theresia Van Der Knaap was given a two-year caution and Evelyn Agbeko can now only work when supervised.
The Nursing and Midwifery Council (NMC) ruled the pair still have a contribution to make to nursing.
Mid Staffordshire NHS Foundation Trust said it "doesn't tolerate poor care".
The nurses have left the hospital since the woman's death in 2010.
In 2009, the Healthcare Commission began an investigation on the back of concerns over high death rates at Stafford Hospital. Its report described "appalling standards of care".
Multiple failures
The findings of an independent inquiry into standards of care, published a year later, criticised both staff and management.
A £13m public inquiry, which looked at why regulators had failed to identify the failings at the trust, found in February there had been "failings at every level of the NHS".
The NMC found that Ms Van Der Knaap let down the elderly woman - known as Patient A - in several regards.
"She admitted failing to escalate Patient A to a MEWS (Modified Early Warning System) chart, a system for patients whose condition gives an increased level of concern," a spokesman said.
"Ms Van Der Knaap also admitted failing to press an emergency alarm on finding Patient A unresponsive, failing to ensure that the resuscitation team was called and failing to commence basic life support."
'Appropriate action'
Ms Agbeko admitted recording that Patient A was asleep at times when she knew or ought to have known that she was dead.
"She is said to have failed to carry out, or to ensure that adequate observations were carried out, to have failed to make adequate entries in Patient A's medical notes, to have failed to escalate Patient A to a MEWS chart, to have failed to call the resuscitation team and to have failed to provide adequate basic life support," the NMC spokesman said.
Ms Van Der Knaap claimed she provided care and comfort to Patient A in difficult circumstances, at the same time as being responsible for the care of 10 other patients on a ward where communication between staff was poor, the NMC said.
The NMC panel said in Ms Agbeko's case, it had accepted she had practised as a registered nurse without any concerns being raised in the three years since the incident and that there were no other disciplinary proceedings in relation to her practice.
In a statement, director of nursing and midwifery at Mid Staffordshire NHS Foundation Trust Colin Ovington said: "The trust does not tolerate poor care and we have a robust internal disciplinary process for dealing with staff who do not reflect our trust values in their practice.
"Appropriate action, including suspension and dismissal, is taken against those who fall short of the standards we expect from our nurses.
"Referrals are also made to the Nursing and Midwifery Council where necessary."