Stafford Hospital administrators given more time by Monitor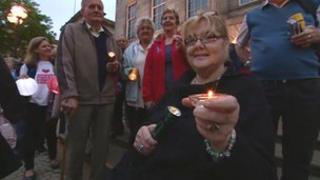 Administrators running Stafford Hospital have been given more time to plan the future of its services.
Health regulator Monitor has granted the Trust Special Administrators (TSA) an extra 30 days. Their draft report will be published by 31 July.
They have also been given an extra 10 days for public consultation.
The Mid Staffordshire NHS Trust went into administration on 16 April after a report concluded it was not "clinically or financially sustainable".
The trust also runs Cannock Chase Hospital.
Dr David Bennett, chief executive at Monitor, said: "The TSAs have been set a complex and challenging task and, while any delay is frustrating for patients and staff, it is important to get it right for local patients.
"Monitor's Board recognised the scale of the challenges in identifying a solution that meets the needs of the local health economy and asked us to exercise even greater scrutiny at this critical stage."
Candlelit vigil
TSAs were initially given 45 days to design new patient services, but last week asked for an extra 30 days.
They said they needed "more time to continue discussions with other health providers and commissioners".
The consultation on the draft report, which was due to last 30 days, will now start at the beginning of August and finish in October, Monitor said.
On Monday, the campaign group Support Stafford Hospital postponed the handing in of a petition with 45,000 signatures to Parliament.
The group held a candlelit vigil in the town on Tuesday night.
Sue Hawkins, from the group, said: "The delay is frustrating not only for us but for staff at the hospital because we still don't know what lies ahead of us.
"We just hope that the administrators get this decision right not just for Stafford but for surrounding health services."
The Mid Staffordshire NHS Trust, which was at the centre of the public inquiry led by Robert Francis QC into poor standards of care, was the first NHS foundation trust to be put into administration.