Stoke-on-Trent woman injured as lightning strikes home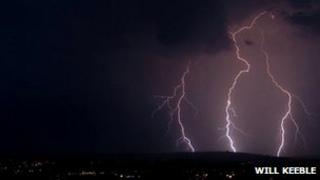 A woman was hurt in Stoke-on-Trent when a lightning strike caused a ceiling to collapse on top of her.
A family was in the home on Glover Street, in Birches Head, when emergency services were called earlier.
A West Midlands Ambulance Service spokesperson said they believed a "woman had been struck on the head by a roof tile when the ceiling fell in".
She was taken to University Hospital of North Staffordshire but details of her condition have not been released.
Firefighters said lightning damaged the roof and internal electrics as well as sending structural debris into the road.
Other homes in Staffordshire were also affected by the storm and Western Power Distribution said overhead cables were damaged by a suspected lightning strike.
More than 500 homes in the Norton Green were without power from about 06:00 to 09:00 BST.
A spokesperson said additional staff worked through the night to restore power to about 20,000 properties across the West Midlands.
The storm also caused problems for commuters and London Midland said lightning had damaged rail equipment between Stoke-On-Trent and Crewe.
'Unable to cope'
The damage left Stone, Stoke-On-Trent, Kidsgrove and Alsager stations all "unable to be serviced".
Road transport was organised to replace trains on these routes until the problem was resolved at about 11:30 BST.
Staffordshire Police also issued a warning for drivers to take extra care on roads affected by surface water.
Staffordshire county councillor Simon Tagg said: "The sudden downpours mean that water is running off fields and the gullies are simply unable to cope with the amount of water on the roads."
In Madeley Heath, the A531 was closed in both directions due to a fallen tree between the A525 Newcastle Road and Heighley Castle Way.
Flooding caused problems on the A500 in Longport at Porthill Bank and the A522 Cheadle Road in Wetley Rocks.