Why do West Midlands county councils own so many farms?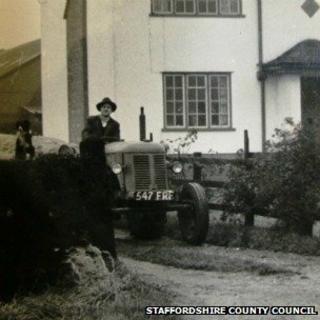 You might be surprised to learn your local council probably owns a farm.
In fact, Herefordshire and Warwickshire County Councils own about 50 each and Staffordshire County Council has more than 100.
Staffordshire is this year celebrating a century of owning farms and renting them to farmers and, after a shaky few years, its scheme looks set for another 100 years.
How did councils end up as farming landlords? And - in these difficult times - what benefits does that bring to the rest of us?
Well, 100 years ago the establishment was starting to worry about the lack of employment opportunities for those living in the countryside.
Business was booming in our larger towns and, not surprisingly, people were tempted to leave the land and earn much more money working somewhere like Birmingham. Those that did stay in agriculture were having a hard time surviving because of an expanding food import trade. Having council-owned farms was seen as a strategic answer to these problems.
After World War I council farms became even more popular as they provided employment for men returning from the front.
In the Midlands, the schemes have continued since then, falling in and out of fashion with our councils. There have been periods where councils have realised they have lost money supporting these smaller farms and land has been sold off for extra income.
Increasingly though, these schemes are seen as strategically important for the Midlands and the countryside and also provide councils with a regular income.
Milk for schools
Staffordshire County Council did seriously consider selling off its farms in 2008 but after some heated debate it was decided instead to reinvigorate the scheme.
It's now like a farming version of Dragon's Den crossed with the X-Factor. Candidates must put forward comprehensive and compelling business plans to secure a tenancy.
Those that do will then be audited at certain points and if they don't come up to scratch they won't be allowed to continue. All this means in Staffordshire is the farms make nearly £500,000 in profit for the council every year. On top of that the farms also supply all the milk the council needs for its offices and schools.
Apart from the money Staffordshire County Council's farms provide employment in the rural economy and provide one of the few places a new farmer can get a foot on the ladder if they don't stand to inherit a farm themselves. This keeps farming talent in the UK and stops young farmers emigrating to places like Australia and New Zealand.
Staffordshire does still sometimes sell off its farmland for development but the deal now is that council officials always buy extra land somewhere else in the county if they do.
As with all long-term investments, it's important to check your returns and make sure they continue to perform. But after some retuning it looks like Staffordshire's Council Farms will continue to boost the rural economy and be a nice little earner for the county council's taxpayers.