Stafford Hospital: Lewisham campaigner urges 'much needed' hospital to be saved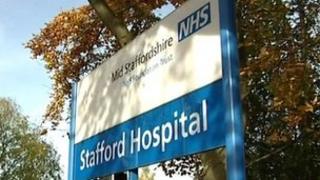 A GP who campaigned to keep services at a London hospital has urged people to fight for Stafford Hospital.
Administrators have recommended that the trust which runs Stafford Hospital should be dissolved and some services moved elsewhere.
Dr Louise Irvine, who chairs the Save Lewisham Hospital campaign, said Stafford Hospital was "much needed".
On Wednesday, Health Secretary Jeremy Hunt's decision to reduce services at Lewisham Hospital was quashed.
The Mid Staffordshire NHS Trust went into administration on 16 April after a report concluded it was not "clinically or financially sustainable".
'Every corner'
Under the Trust's proposals, Stafford Hospital will be part of the University Hospital of North Staffordshire (UHNS) in Stoke-on-Trent while Cannock Hospital will become part of the Royal Wolverhampton Trust.
Other major proposals include Stafford Hospital losing its maternity unit but keeping its A&E department, which opens for 14 hours each day.
Seriously ill children would no longer be admitted to Stafford, and would instead go to the University Hospital of North Staffordshire.
Downgrading Stafford's critical care unit and losing some emergency surgery is also proposed.
If approved, the proposals will be implemented in 2018.
Dr Irvine said: "Mid Staffs has improved a lot over the years, it's a much needed hospital and this is an issue because of underfunding... [You] need to fund a much needed vital local health service."
She urged campaigners to continue to gain the support of GPs and local councils and to have a campaign in "every corner of society."
In January Jeremy Hunt told MPs that the cuts were necessary at Lewisham because neighbouring South London Healthcare NHS Trust has been losing more than £1m every week.
At the High Court, Mr Justice Silber said recommendations had to have regard to, or be supported by, GP commissioners.
Consultation
The leader of Staffordshire County Council encouraged "as many people as possible" to become involved in the latest consultation.
Philip Atkins said: "I know that people in Stafford will be disappointed at the loss of some services, particularly a full maternity service, and I urge local people to engage with the consultation so that proper consideration is given to the maintenance of a midwife-led maternity unit in Stafford."