Can spending £5 a week save your local high street?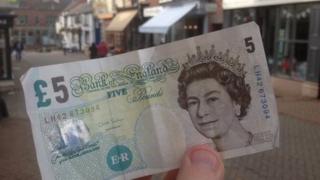 Online shopping and competition from out-of-town retail parks and supermarkets have long been cited as the reason so many British high streets are suffering. But can a project which challenges consumers to spend £5 locally finally turn the tide?
A number of government schemes have been introduced to try and give shopping areas a boost, but what can towns do to help themselves?
Burslem in Stoke-on-Trent is the latest to try out a scheme to get local people to spend £5 of their weekly shopping budget in their town centre instead of online or in chain stores.
It currently has about 30 empty shops and has suffered since the closure of the Royal Doulton factory in 2005 and tourist attraction Ceramica shutting down in 2011.
It is also two miles from Hanley which is seen as the retail centre for Stoke-on-Trent.
Professor Jon Fairburn, from Staffordshire University's Business School, is helping to implement the social enterprise scheme called Totally Locally.
"The theory is if every adult living within one mile of Burslem town centre spends £5 with their local independent shops and businesses, it would be worth an extra £6m a year to the local economy," he said.
But how realistic is that figure?
'Can't be sustained'
Matthew Hopkinson, director of the Local Data Company which analyses retail trends, claims the scheme is "a gimmick".
He said: "What you're trying to do is change consumer behaviour but even if they do it for one week they're probably not going to do it for 52 weeks a year.
"Businesses think if they can manipulate the consumer and their habits everything will be alright, but ultimately it can't be sustained."
One town to already try the idea is the market town of Leek in the Staffordshire Moorlands.
Three years ago, 11% of its shops - about 30 of them -were vacant and charity shops occupied a number of units. That vacancy rate is now down to 6% - about 11 shops.
Marc Briand, who leads the scheme, said it was set up as a reaction to the building of a new supermarket in the town in 2011.
"Switching £5 of your shopping budget is as simple as buying a sandwich from the local cafe at lunch or buying your weekly fruit and veg," he said.
"Out of that people then start to think about getting their car serviced at the local garage or buying clothes from local boutiques.
"The initial idea of making sure people spend that fiver has started to tail away but we've built on that to market the town in the right way and people keep coming back."
Pop into Alison Szafranski's Market Kitchen Cafe in Stanley Street and she will point you in the right direction to buy a birthday gift or bottle of wine for a dinner party - all on the town's high street.
"It's about promoting all the businesses here, competition is healthy, but we are all about pulling together to make our businesses successful and Leek successful," she said.
'Reasonably prosperous'
Mr Briand said it was "difficult to gauge" how successful the £5 spend scheme had been.
"Traders are quite cagey about what their profits are but shopkeepers I know saw a definite upturn [in profits]," he said.
"Even taking it from a low vacancy rate...you can't say it hasn't had an effect."
Traders in the smaller Staffordshire town of Eccleshall started the £5 spend scheme in January.
Accountant Tim Hulse, who leads the project, said it was about uniting traders rather than revitalising the high street.
"Eccleshall has always been a reasonably prosperous area because we've got a lot of so-called destination shops; a baby boutique, a speciality wedding shop, jewellers, and those bring people in," he said.
"I think it's the case of bringing a group of people together to put the effort in to promote any sort of campaign. Some traders have reported a 10 to 20% rise in turnover since we began."
At WM Perry's butchers shop in Stafford Street there is a list of nearby farms where the shop's meat comes from and a stack of bones piled on a table outside for dog owners to take for their pets.
Owner Peter Bevan said: "I don't think you can dictate to someone how and where they spend their money but the important thing is we give them the service that keeps them coming back.
"I think that's what Eccleshall prides itself on, shopkeepers now know the customers' names and faces and know exactly what they want."
But the scheme would not suit all town centres, according to Mr Hulse.
He said: "We're a small enough town not to need a massive major brand name and I think with the unique businesses we have, proximity drives footfall.
"It will be interesting to see how Burslem does, being so close to Stoke-on-Trent city centre and what it has to offer retail-wise."
Back in Burslem, some shops are getting a fresh coat of paint ahead of the launch of the £5 scheme on 12 October.
Only time will tell if shoppers spending a weekly fiver will spark the town's revival.