Travellers move on to Cheslyn Hay high school car park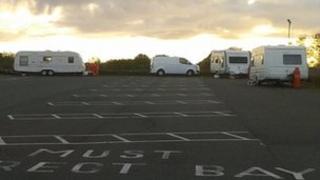 A high school has closed its car and coach park after a group of travellers moved on to the site.
About five caravans and a number of vehicles moved on to land at Cheslyn Hay community high school in south Staffordshire last week, the county council said.
The authority said it was starting legal action to get the group evicted.
The school said parents and coach drivers should find an alternative place to drop and pick up students.
Staffordshire Police said its officers were managing traffic on Saredon Road and around the school during peak times.
Coaches and cars were redirected to the nearby leisure centre car park this morning today, it said.
'It was gridlock'
Lollipop lady Jenny Wilkins, 41, said the morning school run had been "absolute bedlam".
"It was gridlock. With the caravans there it just made the traffic 50 times worse than it usually is.
"Just getting in between the cars to cross the children was horrendous."
Mike Lawrence, from Staffordshire County Council, said the authority and the police had asked the travellers to move on.
He said: "We do understand the concerns of residents particularly around parking at the school and would like to reassure parents that we are doing everything within our powers to resolve this issue swiftly.
"We are applying to the courts for a possession order to remove the travellers from the school car park and the nearby land, which is used as a bridleway, but hope they will leave the site without any further intervention from the courts or the police."