Bradwell Crematorium fits lift for coffins for obese people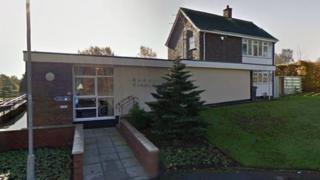 A crematorium has installed a new £12,000 lift table to handle wider coffins for obese people.
Newcastle-under-Lyme Borough Council said it could not accommodate the funerals of 15 overweight people at Bradwell crematorium last year.
It said mourners had to travel to Lancashire because it was the nearest place able to deal with bigger caskets.
The Staffordshire council said it would raise an extra £10,000 a year from being able to hold more funerals.
Roger Tate from the council said: "The catafalque [lift] that we had in the crematorium was about 30 years old and it was designed to accommodate the standard coffin size of that time.
"Those coffin sizes have grown much larger over the years to the point where the nearest local authority to us that could take them was in Bury.
"We wanted people to be able to choose to stay and have their funeral locally."