Baby Jesus statue stolen from Staffordshire pub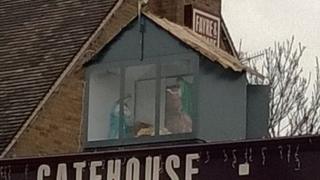 A life-size statue of the baby Jesus has been stolen from a nativity scene on the roof of a pub in Staffordshire.
The crib had been loaned to the Gatehouse in Clayton in Newcastle-under-Lyme from the nearby Our Lady and St Werburgh's Church.
Staffordshire Police said they believed thieves had taken the 15in (38cms) figure of Jesus and a 2ft (60cms) high statue of a shepherd on Saturday night.
Father Anton Madej said: "I'm shocked and so very sad this has happened."
The church holds an annual carol service at the pub and it was the sixth year in a row that the crib had been mounted on the roof, Father Madej said.
He said: "Jesus was born in the manger at the inn, the equivalent of a pub today, so it was good that we could work together to do this as a goodwill gesture for the community.
"It's just a shame it has been ruined by a small minority."
Father Anton said no damage had been done to the other figures.
No-one from the pub was available for comment.