PCC 'should resign' for drink-drivers online naming policy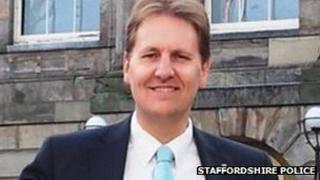 Staffordshire's Police and Crime Commissioner should resign over the use of Twitter to name drink-driving suspects, a criminal lawyer has said.
Nick Freeman claims Matthew Ellis is prejudicing cases with his force's policy of "naming and shaming" people online before they appear in court.
The names of more than 50 people have been published on the force Twitter account since the start of December.
But Mr Ellis said the policy was not illegal and not in contempt of court.
Mr Freeman, who was once nicknamed "Mr Loophole" for helping a series of celebrity clients in court, said Mr Ellis had "demonstrated a cavalier disregard for the presumption of innocence."
He said: "By his comments he is presuming that everyone named by his officers is guilty as charged, even before they have appeared before a court.
"I am calling for his job because anyone who makes an informed decision must make it on the correct facts and he is so erroneous in the facts he is stating."
'Not illegal'
Mr Freeman said he would prefer to see a policy of more police patrols and drink-drivers being named only once they had been convicted at court.
In response, Mr Ellis said he would not be resigning and that the force would continue with its online campaign.
He said: "It's a matter of public record if anyone is charged with an offence, it's not illegal and it's not contempt of court to name them, the media do it every day.
"Early indications show that this [policy] is working, getting people to think twice about drinking and driving....if it saves a few lives and stops a few tragedies over Christmas then it's a positive."
Mr Ellis said 89 people had so far been arrested for driving under the influence of drink and drugs over the festive period with 76 later being charged with an offence.