Julie Bailey: NHS campaigner suffers online abuse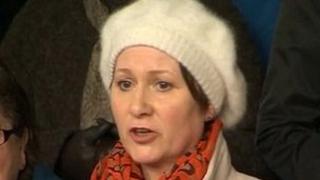 A woman who helped expose failings at Stafford Hospital has been subjected to online abuse after being recognised in the Queen's New Year Honours.
Julie Bailey, who set up the campaign group Cure the NHS, was made a CBE for services to the care of older people.
She said she was "hurt" by comments made on the Support Stafford Hospital Facebook page which accused her of "wrecking health services in the town".
One post also said her award was a "complete insult" to hospital staff.
Administrators called in to manage the NHS Trust which runs Stafford Hospital recommended last month it should be dissolved with services taken over by neighbouring NHS trusts.
Ms Bailey said people had wrongly targeted her over the proposals.
'Hostile town'
"Cure the NHS had nothing to do with the changes to services to hospital services," she said.
"Our priority has only ever been patient safety, if that means transferring services to other hospitals then we support that move.
"We must always ensure that others aren't harmed as our loved ones were. Sadly for some their priority is having a hospital on their doorstep and not patient safety."
Cheryl Porter, from Support Stafford Hospital, said the group did not condone the comments made on its Facebook page.
"People should not be aiming their frustrations at Julie Bailey but at the authorities who are taking services from our hospital," she said.
"In the crisis years, Julie Bailey highlighted problems, got people to look at it, money was invested and the whole hospital was turned around in two years."
Ms Bailey said in June she was forced to leave her home and business in Stafford because many people had been "hostile" towards her over "lies" she wanted the hospital closed.
In May, paramedic Murph Guest was fired by West Midlands Ambulance Service over abusive comments made on Facebook towards Ms Bailey.
Ms Bailey founded Cure the NHS after the death of her mother at the hospital in 2007 and successfully led calls for a public inquiry chaired by Robert Francis QC.