Staffordshire Regiment memorial fundraising campaign starts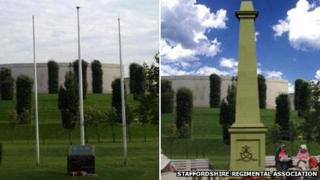 Fundraising has begun in a campaign to replace a memorial for soldiers from Staffordshire, after veterans said it had become "tired and rundown".
Members of the Staffordshire Regimental Association said the statue at the National Memorial Arboretum in Alrewas had been damaged by bad weather.
It has drawn up plans for a new 15 ft (4.5m) high memorial and is hoping to raise £10,000 to get it built.
An Arboretum spokesman said the plans would be discussed once submitted.
Chairman of the Lichfield branch of the Staffordshire Regimental Association, Glynn Ireland, said the existing brick memorial had become "very tired looking."
"With the ravages of time the mortar is decaying and the three flags standing behind it are constantly in tatters," he said.
"We want to rebuild it completely as something more fitting for the guys who have died in the past."
The association said it had already had offers from builders, architects and stonemasons to give their services for free.
It said it was doing charity events and bucket collections to raise money to pay for the memorial and hoped building work could start in April.