Madeley pool: Farmers fined for fish deaths pollution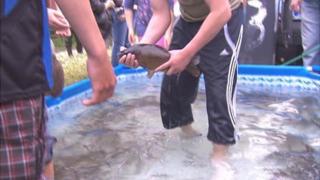 Two farmers have been fined £10,000 for polluting a Staffordshire pool and causing some 3,000 fish to die.
Brothers Robert and Andrew Moss pleaded guilty to failing to stop a silage leak at Peaks Farm in Madeley, near Newcastle-under-Lyme, on 5 June 2012.
The Environment Agency said the fish suffocated due to a lack of oxygen.
South Cheshire Magistrates' Court also ordered the men to pay £14,981 to cover the agency's clean-up operation and £10,198 in legal costs.
Investigations showed that silage effluent had entered the pool after running along a 3.7-mile (6km) stretch of the River Lea.
Dozens of volunteers worked with firefighters and anglers to try to save hundreds of other fish in Madeley pool, which were then taken to local fisheries.
The Environment Agency said the effluent tank at Peaks Farm was initially found to be full and overflowing.
It said even after it was emptied, silage continued to leak on to a nearby field and into the river.
Andrew Moss said the farm had now installed new silage clamps to prevent leaks.