Staffordshire Police investigated over Twitter naming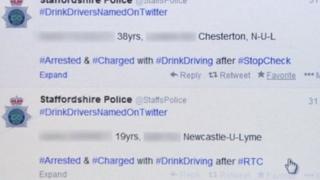 A police force is being investigated for possible breaches to data protection laws after naming drink drive suspects on Twitter.
Staffordshire Police was one of two Midlands forces to use the tactic in a December social media campaign.
The Information Commissioner's Office (ICO) confirmed it is investigating whether people should have been named prior to conviction.
West Midlands Police, which also named suspects, is not being looked at.
The ICO, an independent authority which safeguards data privacy, said it had been contacted by an individual about the campaign, which named 86 people charged with drink driving on the force Twitter account.
'Cavalier disregard'
A spokesman said: "At the moment, we are still looking at this individual force over possible breaches of the Data Protection Act."
In December, lawyer Nick Freeman - nicknamed Mr Loophole - called on Staffordshire's police and crime commissioner Matthew Ellis to resign over the policy.
He said it "demonstrated a cavalier disregard for the presumption of innocence".
However, Mr Ellis said the details were "a matter of public record" and it was "not illegal" to use them.
Assistant chief constable Julian Blazeby said: "We can confirm we have been approached by the ICO in relation to the recent drink driving campaign.
"They asked us to provide information on some elements of the campaign and we will be providing a full response to the questions they have asked in the next few days."