Fire door lock fears for Stoke-on-Trent council tenants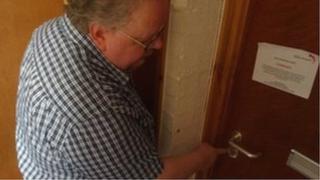 People living in Stoke-on-Trent council flats have been told locks on new fire doors could be changed after tenants said they were worried about security.
The new doors replaced those branded "death traps" by some tenants after a review last August found they did not meet council safety standards.
Stoke-on-Trent City Council said it would investigate the possibility of changing the locks.
Tenants in blocks of flats will also be offered door security chains.
The council works with contractor Kier Stoke to house 19,000 council tenants.
Stoke-On-Trent City Council's assistant director of housing services, Val Bourne, said: "We are keen to ensure that our tenants feel safe in their homes."
She said the locks had been approved by Staffordshire Police and there was no reported increase in break-ins at flats fitted with the new doors.
"We are happy to install security chains on lobby doors.
"However, these chains would have to remain unlocked during working hours so that our neighbourhood impact officers can gain access to carry out important safety checks," she added.
Fire safety
Stoke-on-Trent resident Alan Barrett, of Campbell Road, said the move was "a step in the right direction".
"I am pleased that the city council and Kier are taking responsibility over the fire doors," he said.
Kier Stoke installed fire doors in 2010 and 2011 but in August 2013 an inspection found 66 doors in 11 tower blocks did not meet the standard of 30-minute fire resistance.
It also listed a number of problems with the doors, stating many of them did not open and close properly.
A year-long programme to check and, where necessary, replace doors is due to finish in the summer.
Staffordshire Fire Service said it was checking and signing off each replacement to ensure that fire safety standards were met.