Stoke-on-Trent City Council revised budget to hit jobs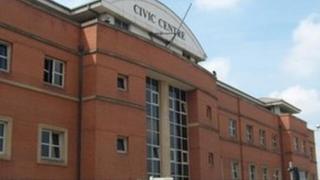 About 70 jobs remain under threat despite Stoke-on-Trent City Council revising its budget plans.
After a public consolation, plans to remove museum pottery demonstrations and close public toilets have been reversed.
The council needs to save £100m over the next four years, in addition to the £77m already reduced since 2010.
The jobs could be cut from areas including council management, leisure centres and waste collection.
A proposed restructure of the teams responsible for roads and transport would also result in job losses and vacant posts not being filled.
Further income of £1.2m would be gained through a council tax increase.
'Impossible task'
Council leader Mohammed Pervez said the council's current debt is 12.5% of its income and the scale of the budget challenge is "enormous".
He said: "We have specifically listened to our communities. We have made the necessary changes. It is an impossible task to keep everyone happy."
His budget suggests reducing grass cutting and litter clearance as well as increasing parking charges.
'Salami slice'
The consultation's largest response was against the removal of the staff who give pottery demonstrators at the Gladstone Pottery Museum in Longton.
The council has now said it will not axe those jobs but proposes to close the attraction two days a week instead to achieve savings.
It has also modified its funding plans for the British Ceramics Biennial, which would receive £50,000 a year instead of the £25,000 suggested before public consultation.
The libraries in Meir and Trentham may still close and taxi marshals in Burslem may still be taken away as these services remain under review.
Stoke-on-Trent City Council's Chief Executive John van de Laarschott said: "You can't just continue to salami slice and take pieces out. One of the things we need to do as a local authority is to become much more commercial in our activities."
He said the council is focussed on making services more self-reliant as funding reduces.
The proposals will go before the full council for approval on 27 February.