Robbie Williams fans take tourist trail in Stoke-on-Trent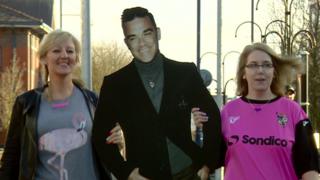 More than 100 Robbie Williams fans have taken part in a tourist trail organised to mark the singer's 40th birthday.
The fans visited his childhood home and school in Tunstall in Stoke-on-Trent and the Queen's Theatre in Burslem where he first performed.
Organisers said people had travelled from Germany, Switzerland, the USA and South America to take part.
The trail was part of a weekend of celebrations which included a mini-festival and two exhibitions.
Jean Pierre Neuendorf, who had come from Cologne in Germany to take part in the tour, said it was the third time he had visited Stoke-on-Trent.
"I am a massive fan of Robbie, and I had to bring my girlfriend this time so she could see where he was from and how much fun it is to be with other Robbie fans.
'Rob-sessed'
Katie Griffiths, from Loughborough, said she was a member of the "Barrier Crew Crazies" who always got to the front for Robbie's concerts.
"I think the highlight [of the tour] was going to Greenbank Road where Robbie used to live when he was in Take That," she said.
"I went two or three times when I was younger, waving banners and looking through the window but he was never actually there when I visited."
Zoe Hankey, from Newcastle-under-Lyme, said: "The word 'Rob-sessed 'has been used by my family, but it's a healthy obsession.
"I've made a lot of friends going to his concerts who are here this weekend; it's a social event as well as going to see Rob."
Melanie Williams, from the Donna Louise Hospice, who helped to organise the tour, said she was "surprised about how it had taken off".
"This all started with the fans, who had an idea to put on a tribute act to celebrate his birthday and it snowballed into the fan-fest weekend," she said.
"We've been really excited about it but I don't think we ever expected so many fans to travel from across the country and the world to be here."
As part of the singer's birthday celebrations a blue plaque dedicated to him was mounted on gates in Tunstall Park on Wednesday.
Two exhibitions inspired by his career opened at the Potteries Museum and Art Gallery and the Burslem School of Art.
On 13 February, the town will hold a "Robbie Day" in honour of his 40th birthday.