Staffordshire County Council approves £19m budget cuts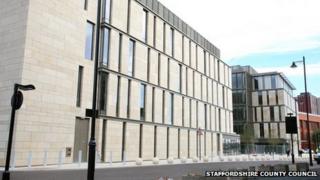 Services including youth clubs, elderly home care and libraries are to be cut after councillors in Staffordshire approved £19.3m of budget savings.
The authority previously said job losses were "inevitable" but it had not yet decided how many posts would go.
About £4m worth of cuts will be made to elderly care services that enable older people to stay in their own homes.
There will be a review of 38 youth clubs which could be closed down or run by other organisations to save £2.8m.
Stafford Library is to be moved from the Shire Hall to the council's new headquarters, Staffordshire Place, to save £75,000.
'Spent wisely'
An extra £2.6m is to be invested into children in care and with £1.5m more being spent on services for people with learning disabilities.
The authority said it had frozen council tax, meaning Band D householders would continue to pay £1,027.25 a year.
It said it needed to make savings of £109m over the next five years.
Council leader Philip Atkins said: "Demand for services such as adult social care and looked after children continues to grow, and we have to ensure every penny of our reduced income is well spent and delivers.
"It is also essential for us to work closely with public sector partners who together spend over £7.5 billion of public money in Staffordshire.
"We have a duty to make sure all this money is spent wisely and effectively, reducing the burden on taxpayers."