'Speak English,' international warehouse workers are told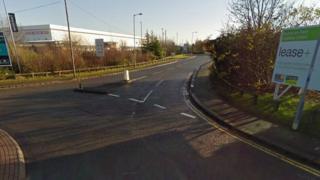 A union has criticised a company for insisting its international workforce speaks only English in its Staffordshire distribution warehouse.
Hobbycraft, an arts and crafts supply company which has a base on the Centrum 100 Business Park in Burton upon Trent, said the requirement helped to "create a good working environment".
It said the ability to speak English was part of its recruitment criteria.
The union Unite said the move was "overbearing".
'Communicate effectively'
Rick Coyle, regional officer for Unite, said: "This is a case of local management flexing its muscles."
He said that staff already spoke English "to a very high standard" for most of the time.
"If two people are having a quiet chat by the coffee machine the management wishes to regulate that conversation," he said. "Workers feel that's getting a little overbearing."
Hobbycraft said the issue had arisen after management held a meeting with staff - whom it said were a mixture of nationalities - highlighting the requirement to speak English.
Chris Fenlon, people director, said: "Having the ability to speak English is part of the recruitment criteria in our distribution centre, therefore we do ask that during working hours in the warehouse colleagues speak English.
"However, within the social areas colleagues can speak all languages. This is to create a good working environment where all colleagues can communicate effectively."
He added it was unlikely disciplinary action would be taken "in the first instance".
"We would, however, look to ensure it was absolutely clear what our expectations and requirements are," he said.
Hobbycraft has 79 stores nationwide selling craft products ranging from glue to sewing machines.
The company employs 1,889 people but bosses declined to reveal how many people were working at the distribution warehouse and what percentage of the workforce was made up of foreign nationals.