Bignall End open cast mine plan submitted to Staffordshire County Council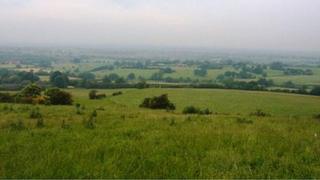 A planning application to create an opencast mine in Staffordshire has been submitted by UK Coal.
The company wants to excavate 450,000 tonnes of coal from Bignall End over a two-and-a-half year period.
Opponents claim the land should be protected because the bodies of 77 miners who died in the Diglake pit disaster in 1895 are still there.
UK Coal said it was confident there would be no disturbance of the Diglake site.
About 300 people took part in a protest against plans for the opencast mine on land at Great Oak in Bignall End in March.
They are worried the development could disturb the bodies of the miners killed in the Diglake disaster.
Campaigner Claire Hansbury, said: "People are very angry that potentially the graves of their family members will be upturned without their permission.
"There's no way to tell exactly where those bodies are placed to the exact metre because of the movement underground over the years."
She said local people were also concerned about the increased traffic and environment impact of the mine.
UK Coal said it had submitted its planning application to Staffordshire County Council.
It said its proposals would create up to 60 jobs.
It said plans had been amended over the past few months based on feedback from more than 250 people who attended consultation exhibitions.
David Green, from UK Coal said: "We've adopted the industry standard to make sure that old deep mines aren't disturbed and we're absolutely certain there will be no disturbance of the Diglake disaster site as a result."