East Staffordshire Borough Council leader Richard Grosvenor ousted after vote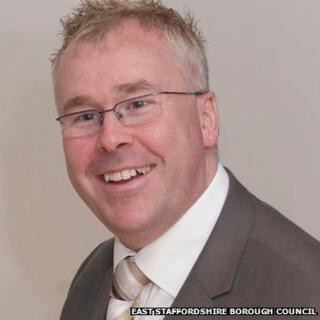 The leader of East Staffordshire Borough Council has been ousted in a vote of no confidence.
Conservative Richard Grosvenor has been replaced by Labour's Julian Mott after councillors voted in favour of the change at a meeting on Monday.
Mr Grosvenor said the decision was driven "by political vengeance" after four councillors who had left the Conservative Party backed it.
The Labour group said the vote at Burton Town Hall "was democratic".
Mr Mott said: "It doesn't happen very often that people go from one political group to another but in this case it shows how badly the Conservatives were handling the council.
"They lost their majority and someone had to provide stability which is what we think we have done."
Councillors Robert Hardwick, Peter Ball, Malcolm Barrett and Nathan Birnie left the Conservative group in May and formed the East Staffordshire Independent Group.
'Vindictiveness'
The council is made up of 18 Conservatives, 16 Labour councillor, one Liberal Democrat and the four independents.
Mr Grosvenor said the independents had the casting vote and the motion remove him as leader was passed by 20 votes to 19.
He said: "This motion was motivated by political vengeance and vindictiveness, a motion which does not suit the wishes of the majority of residents.
"Residents have elected representatives believing they knew what they stood for.
"They've jumped ship and have now given residents a Labour-run council which they didn't vote for at the last election."
Mr Grosvenor will remain the leader of the Conservative group.
It has called for the four councillors who defected from the group to step down and seek re-election as independent candidates in their wards.
The East Staffordshire Independent Group said it would be issuing a statement later.